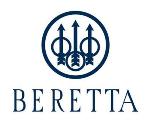 GOLD CUP LINE- 6 Box Cartridge Bag with 3 Zip Pockets
We've selected this bag because we really like the overall size for sporting clays and general range shooting. Cartridge bag holds 6 boxes with inner pockets (for choke tubes, wrenches, lube, etc.) and conveniently placed external lateral pocket for bottles and quick access items. Embroidered logo to avoid stock scratch. Zippered external pockets. Padded shoulder straps with safety spring-clip.
Constructed of heavy-duty nylon, this compact bag is ideal when you don't want to carry a ton of stuff for a session at the range. Designed to effortlessly accommodate 6 boxes of ammo, the widemouthed top opens fully for easy access to ammo.


Dimensions:13.5" L x 8" H x 8" W
Padded handle
Zippered outer pockets
Protective bottom
Beretta #BS58
International origin