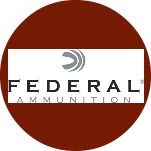 Federal Premium Gold Medal Rifle Ammunition #GM223M
.223 Remington, Sierra MatchKing BTHP 69gr (20 Rd/box)
These heralded loads combine the legendary Sierra MatchKing Boat-tail bullet with Federal's proprietary delivery system. Stringent manufacturing controls give you what many experts and international shooters consider the most accurate match round available from a factory.
World-class competitors, as well as military and law enforcement officials, choose Gold Medal when it counts the most.World class centerfire shooters, military and law enforcement officials use these match rifle cartridges. Gold Medal centerfire rifle cartridges are legendary for extreme accuracy and has become the choice of competition shooters.
The aerodynamic design of the Sierra MatchKing bullet helps overcome wind resistance, resulting in flatter trajectory, consistent accuracy and higher retained energy at long ranges, even under adverse conditions.
Sets the standard for match-grade accuracy and consistency.
Mfg #GM223M

Category: AMMO CENTERFIRE

Caliber: 223 Remington

Bullet Type: Sierra MatchKing BTHP

Bullet Weight: 69 GR

Muzzle Energy: 1335 ft lbs

Muzzle Velocity: 2950 fps

Rounds/box: 20 Rounds Per Box, 10 Boxes Per Case
Winner at 600 yards
July 21, 2013

"I shoot this to 600 yards. My first group at 600 was about 4 inches and some smaller than an inch. Savage Model 12 with varmint barrel. It matches most handloads.
At 100 yards I have shot 0.25 MOA."
-YMMV
(from Federal Premium website)
Loaded in USA