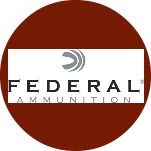 Federal Vital-Shok Rifle Ammunition #P223Q
.223 Remington, Nosler Partition, 60 GR, 3160 fps (20/box)
A great hunting load with Nosler Partition bullet. Awesome option for medium game. Vital-Shok is available in the world's finest big game bullets.

The Nosler Partition was one of the original premium big game bullets and it continues to be a standard for consistency. Designed for medium to large game animals, the partitioned copper jacket allows the top half of the bullet to mushroom, while the bottom half remains in tact. This design provides deep penetration and ultimate stopping power.
Match that with world class brass, select powders and legendary primers and you get unmatched premium performance.
SPECIFICATIONS:
Mfg Item Num: P223Q
Category: AMMO CENTERFIRE
Caliber: 223 Remington
Bullet Type: Nosler Partition
Bullet Weight: 60 GR
Muzzle Energy: 1330 ft lbs
Muzzle Velocity: 3160 fps
Rounds/box: 20 Rounds Per Box, 10 Boxes Per Case
(From Federal Premium website)
My number one choice
February 8, 2013
TheBigGun, Texas
"I've been using this ammunition for a couple years and Federal 60gr. partition is my go to ammunition. I hunt south central Texas with and AR rifle. I've taken several bucks and lots of hogs from 60-175 yards. All neck shots. This stuff gives me confidence when using small caliber bullets."
5 / 5
great deer round
November 14, 2012
Dustin
"Just recently killed a 10 point using this ammunition. Buck dropped instantly. shot him in the front shoulder, did not exit the other side but completely liquefied the heart and lungs. This ammo had no trouble penetrating bone. shoots about 1 moa at 100 yards out of my handi rifle. What more could you ask for?"
5 / 5
This bullet is great for whitetail deer hunters.
July 29, 2012
Rick, Fayetteville, AR
"I bought an AR 15 for my wife to use deer hunting. She has a problem with her neck so I wanted to get her a gun that could be used as a deer rifle but had as little recoil as possible. After getting the gun, I realized that most of the bullets I tried were lacking in one way or another as good ammo for whitetail deer. After trying several different types of bullets, someone suggested that I use this bullet. I tried it and loved it... so did my wife. She killed her first deer ever last year. It was a 6 pt. at 180 yards. This year she took a 7 pt. at 160 yards. She can't wait for next season."
Loaded in USA