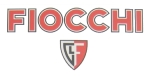 Fiocchi 12ga 3" 1-3/4 oz High Velocity (25/box)

Hard lead shot, clean-burning powders and tight patterns won't let the game get away. This is a stout, heavy-duty 12ga 3" for very tough conditions and tough game.
1-3/4 oz. loads out of the 12ga 3" will yield some significant recoil, but you can be assured that this load will hit game even harder.
1-3/4oz, 50 grams shot
1330 fps
Shot sizes #4, 5, 6
25 rounds/box
10 boxes/case