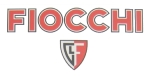 Fiocchi is the world's largest ammunition manufacturer and produces ammunition in all gauges. We stock even the exotic, hard to find gauges. Once you use the loads, we have exquisite little small bore loads to keep every shotgun happy – even the rare 24 and 32 bores.
32ga 2-1/2"
1/2 oz
1260 fps
6, 7, or 8 lead
25 rounds per box, 10 boxes per case
Small-bore loads are sometimes subject to delays. Get them when they are in stock.