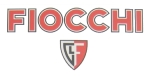 Large Pistol Primers (1500/box)
Save money everytime you pull the trigger with this great primer value from Fiocchi. They also have a 15 year shelf life when they are kept in a cool, dry place.
While most of Fiocchi's ammunition is loaded at their plant in Ozark, Missouri, Fiocchi is also importing ammunition and reloading components from their plant in Italy. All Fiocchi products are loaded to either C.I.P. or SAAMI industry specifications.