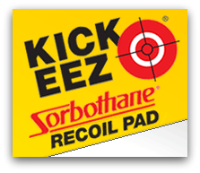 Kick Eez 1/4" Cheek Protector
#703-140
An oval-shaped sheet of microcellular urethane that adheres to your gun comb to virtually eliminate recoil shock to the cheek. These pads are also very useful if you need some adjustment to your line of sight. This item is not recommended for high gloss oil finishes or most synthetic stocks as it will not stick to these finishes.
Specs:
About Sorbothane:
At last, technology meets usability for reducing recoil. Previous shotgun recoil accessories and recoil reduction systems are now obsolete because of the amazing features offered when using Sorbothane and its performance as a recoil reducer for shotguns.
Powerful enough to protect a space shuttle and durable enough to be a highly-effective recoil reduction system, no set of shotgun recoil accessories is complete without Sorbothane recoil pads. If your main objective is to introduce a recoil reduction system that doesn't make you have to fundamentally change your positioning, or require expensive add-ons or gizmos, then using a Sorbothane recoil pad is your perfect solution.
Sorbothane, a one-of-a-kind visco-elastic polymer, has been medically and scientifically proven to be the FINEST cushioning material available today with a spectrum of properties never before realized.
By virtually eliminating the rebound effect of the first shot, second shots are quicker and more accurate. Sorbothane will not distort or lose its effectiveness after being compressed thousands of times and will not "bottom out" as do most common rubber materials on the market today. Sorbothane remains effective in all weather conditions.
People with arthritis, bursitis, separated shoulders, back and arm problems, and endless other injuries find Sorbothane a joy to use. Therefore, Sorbothane is a perfect substance to employ as:
KICK-EEZ Recoil Pads
HAND EEZ Palm Swell
CHEEK EEZ Cheek Protectors
SHOULDER EEZ Inserts