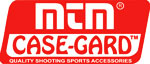 Shell and Wad Hopper
MTM's Shell & Wad Hoppers hold and dispense over 300 empty 12 ga. hulls or 500 wads, keeping them confined and at your fingertips.
You will reload faster and have a better looking loading bench.
With a set of Shell & Wad Hoppers, sold as a twin pack, dealing with empty hulls and wads is no longer a hassle, and yes, can even be a pleasure.

Sold as a twin pack

Color: White