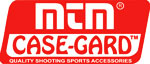 4 Pack of 25 Round Shotshell Trays
Sold in 4-packs, STH12 trays offer convenient, stackable storage for 12 gauge shells.
Designed for MTM's Shotgun Hunter Case and EZ-Grab Shotshell Holster, the 25 round capacity make them an ideal fit for nearly any shotshell case or dry box on the market.
Also works great for organizing your reloaded shells.

Capacity: 25 Rounds per tray, 4 trays per pack