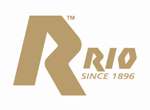 Rio 16ga 2-3/4" new/primed hulls 16mm brass (100/bag)
Color: Red or Clear tube
Top Edge: Unskived
Depth: 2.481"
Length: 2.743"
Brass: 0.625" (16mm)
Primer: Rio-209
Headstamp: "16 (stars)" generic
Wall Thickness: 0.030"
Basewad: molded semi-cup
New & primed Rio hulls are a great value. The hull is the most important part of your reload; don't compromise your performance with old, weak hulls. That's why we recommend starting with new/primed hulls. New hulls will always give you more loadings and because they are primed you save on your primer costs too. Remember, there is no Hazmat charge on primed hulls when shipped via ground in the continental U.S.
Rio hulls feature easy-loading straight-wall extruded tubes and deep plastic disk basewads for versatile load designs. These hulls roll or fold crimp with ease.
Like Fiocchi, Rio's proprietary primer is made in Europe to a metric specification. The result is that the primer measures approximately 0.001" larger than standard U.S. primers. Therefore, plan on reloading them with Fiocchi or Rio primers - otherwise a U.S. primer will be loose in the primer pocket. Of course, primer pockets can always be resized easily with a Primer Pocket Conditioner tool.
Click here to buy in case quantity
Comparison Chart: 16ga 2-3/4" hulls
Part #
Mfg.
Gauge
Length
Specs
Primer
Depth
#RIO167016
Rio
16ga
2.743
red or clear/unskived 16mm
Rio 209
2.481
#1391670
Cheddite
16ga
2.724
blue/skived 16mm
Ched-209
2.454
#1391671
Cheddite
16ga
2.724
red/skived 8mm
Ched-209
2.454
#0641667
Fiocchi
16ga
2.725
blue/skived 16mm
Fiocchi 616
2.417
#064166708
Fiocchi
16ga
2.725
red/skived 8mm
Fiocchi 616
2.417
*Select an alternative if your first choice is out of stock.