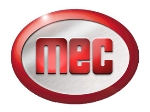 MEC 500E Double Wobble Standard Clay Target Machine
Shipping and promotional coupons do not apply to this product. All shipping will be quoted and billed at actual freight costs.
The 300E, 400E and 500E Wobble sporting clay target machines all come with an oscillating base. The 400E and 500E Wobble machines build upon the 300E version by increasing target capacity and the motor and gearbox are upgraded to a heavy-duty unit designed for high volume use.
Holds 300, 400 or 500 standard targets.
Throwing distance up to 100 yards.
Cycle time of 1.5 seconds.
Oscillates up and down between 10-50 degrees in elevation.
Oscillates side to side between 36 degrees minimum up to 80 degrees maximum rotation.
Locking lever and turnbuckle adjustment for tilt.
Built in timer/interrupter to prevent shooter "reading" the target.
Made of heavy-duty steel materials
E-Coat and powder coat paint system
Three-year warranty and life-time warranty on main-shaft and one-way bearing.
Uses 12V Deep Cycle Marine Grade Battery, Group 24 Minimum.
300E Wobble Size: 42" x 41" x 32" ; Weight: 252 lbs.
400E Wobble Size: 44" x 45" x 32" ; Weight: 272 lbs.
500E Wobble Size: 36" x 41" x 39" ; Weight: 455 lbs.
NOTE: T-Cart is sold seperately
SHIPPING: All MEC Clay Target Machines are shipped from separate facility. Shipping for the MEC Target Machines may require a lift gate. Our customer service team will provide a custom shipping quote prior to processing your order.
Please make sure that your contact information is correct so that we may contact you with the shipping quote.