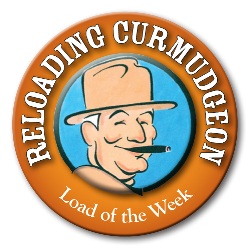 LOAD OF THE WEEK
SpheroTungsten™ Shot Loads #2
"Turkey Turminator"
BPI is the world's exclusive source SpheroTungsten non-toxic shot. Denser than lead at 15 grams/cc (27% denser than lead). The manufacturing methods behind this nearly perfect pellet technology is protected by U.S. patent 7,422,720 B1. This shot is currently only available in #7 (.100").
<![if !supportLists]> · <![endif]> Each spherical pellet weighs about 2 grains and that packs 221 pellets per ounce.
<![if !supportLists]> · <![endif]> Contents: Tungsten/Iron/Copper/Nickel
<![if !supportLists]> · <![endif]> USFWS approved.
Load# 180319-9922
HULL: Cheddite 12-gauge 3-1/2"
PRIMER: Cheddite 209
PROPELLANT: Alliant Steel 34.0 Grains
WAD: FS12 (underneath wad and over the powder) + CSD118 wad (cut with 4 slits)
SHOT: SpheroTungsten #7 shot 2 oz. (875 grains)
BUFFER: 12 gr.
FOLD CRIMP: 6-point
Results: PSI 10400 FPS 1175

Load Notes: Alliant Steel is a very fluffy powder and requires a bit of compaction. The Curmudgeon recommends that you give the wad column a good nudge downward after the wads are in place. Two ounces of SpheroTungsten #7 fit perfectly to the top of the CSD118 wad. This load is considered a fit-plus load. It should be tight at the top. The FS12 provides a cushioned and gentle setback base for this heavy duty load. This load was inspired by John D. of Albemarle, NC. He wanted a heavy turkey load. More loads in SpheroTungsten and ITX EX13 are on the way from our lab.
Safe shooting,
-The Curmudgeon
© 2018 Ballistic Products, Inc.
WARNING: BALLISTIC PRODUCTS, INC. DISCLAIMS ALL POSSIBLE LIABILITY FOR DAMAGES, INCLUDING ACTUAL, INCIDENTAL, AND CONSEQUENTIAL, RESULTING FROM USAGE OF INFORMATION OR ADVICE CONTAINED IN THIS AND OTHER PUBLICATIONS, LABELS, CATALOGS, TESTING REPORTS AND BOOKLETS. USE DATA AND ADVICE AT YOUR OWN RISK AND WITH CAUTION. WHERE DATA LIST SPECIFIC COMPONENTS, NO CHANGES OR SUBSTITUTIONS FOR THESE COMPONENTS CAN BE MADE WITHOUT RISKING SIGNIFICANT CHANGES IN THE LEVEL OF BALLISTIC PERFORMANCE AND/OR SAFETY OF THE LOADS SHOWN. FOLLOW LOADING DATA EXACTLY AND DO NOT SUBSTITUTE COMPONENTS. WE MAKE NO WARRANTIES EXPRESS OR IMPLIED, LIMITED OR FULL, AND WE DISCLAIM ANY SUCH WARRANTIES. FAILURE TO COMPLY WITH THESE AND OTHER STANDARDS OF RELOADING MAY RESULT IN ACCIDENTS WITH SERIOUS INJURY AND/OR DEATH TO THE SHOOTER AND/OR BYSTANDERS. KEEP OUT OF REACH OF CHILDREN. WE DISCLAIM ANY AND ALL LIABILITY FOR DAMAGE OR INJURY THAT MAY RESULT FROM YOUR HANDLOADED SHOTSHELLS AS WE HAVE NO CONTROL OVER ANY OF THE NUMEROUS POSSIBLE VARIATIONS IN COMPONENT PRODUCTION LOTS, IN TOOL AND DIE DIMENSIONS, IN YOUR LOADING PRACTICES AND PROCEDURES. THE INDIVIDUAL RELOADER IS SOLELY RESPONSIBLE FOR ANY VARIATION THAT MAY BE INCURRED BY ASSEMBLED AMMUNITION. TO AVOID SERIOUS INJURY OR DEATH TO SHOOTER AND BYSTANDERS, THIS PRODUCT SHOULD ONLY BE USED IN GUNSMITH-INSPECTED GUNS DESIGNED FOR MODERN SHOTSHELLS. IF GUN FAILS TO FIRE, KEEP POINTED IN SAFE DIRECTION FOR 30 SECONDS, THEN UNLOAD CAREFULLY. WEAR EYE AND EAR PROTECTION AND OBSERVE PROPER GUN SAFETY AT ALL TIMES. ALL PRODUCTS SOLD "AS IS".