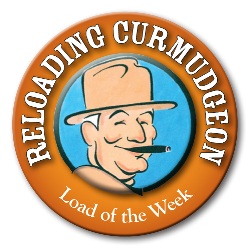 LOAD OF THE WEEK
12ga Cheddite "Mini-Shells" 1-7/8"
These loads are some of the first handloads that were done with MEC's new Mini-Shell Conversion Kit. Make sure that the crimp is good and tight. Use an OS12 if you have room.
Load#N10815
HULL: Cheddite Mini-Shell 12ga 1-7/8"
PRIMER: CH209
PROPELLANT: Hodgdon Titewad 14.0 Grains
WAD: FS12 + 18CW20
SHOT: 7/8 oz #8 NP lead
FOLD CRIMP: 6-point
Results: 7100 PSI 980 FPS
Load#N10816
HULL: Cheddite Mini-Shell 12ga 1-7/8"
PRIMER: CH209
PROPELLANT: Alliant Bullseye 14.0 Grains
WAD: FS12 + 18CW20
SHOT: 7/8 oz #8 NP lead
FOLD CRIMP: 6-point
Results: 5500 PSI 920 FPS
Happy hunting & safe shooting,
-The Curmudgeon
WARNING: Where data contained here, on labels and in catalogs and booklets list specific components, no changes or substitutions for these components can be made, except substitutions of shot sizes that will equate to the same weight charge listed, without risking significant changes in the level of ballistic performance and/or safety of the loads shown. Follow loading data exactly and do not substitute components. We make no warranties express or implied, limited or full. Failure to comply with these and other standards of reloading may result in accidents with serious injury and/or death to the shooter and/or bystanders. © 2018 Ballistic Products, Inc. All Rights Reserved
© 2019 Ballistic Products, Inc.
WARNING: BALLISTIC PRODUCTS, INC. DISCLAIMS ALL POSSIBLE LIABILITY FOR DAMAGES, INCLUDING ACTUAL, INCIDENTAL, AND CONSEQUENTIAL, RESULTING FROM USAGE OF INFORMATION OR ADVICE CONTAINED IN THIS AND OTHER PUBLICATIONS, LABELS, CATALOGS, TESTING REPORTS AND BOOKLETS. USE DATA AND ADVICE AT YOUR OWN RISK AND WITH CAUTION. WHERE DATA LIST SPECIFIC COMPONENTS, NO CHANGES OR SUBSTITUTIONS FOR THESE COMPONENTS CAN BE MADE WITHOUT RISKING SIGNIFICANT CHANGES IN THE LEVEL OF BALLISTIC PERFORMANCE AND/OR SAFETY OF THE LOADS SHOWN. FOLLOW LOADING DATA EXACTLY AND DO NOT SUBSTITUTE COMPONENTS. WE MAKE NO WARRANTIES EXPRESS OR IMPLIED, LIMITED OR FULL, AND WE DISCLAIM ANY SUCH WARRANTIES. FAILURE TO COMPLY WITH THESE AND OTHER STANDARDS OF RELOADING MAY RESULT IN ACCIDENTS WITH SERIOUS INJURY AND/OR DEATH TO THE SHOOTER AND/OR BYSTANDERS. KEEP OUT OF REACH OF CHILDREN. WE DISCLAIM ANY AND ALL LIABILITY FOR DAMAGE OR INJURY THAT MAY RESULT FROM YOUR HANDLOADED SHOTSHELLS AS WE HAVE NO CONTROL OVER ANY OF THE NUMEROUS POSSIBLE VARIATIONS IN COMPONENT PRODUCTION LOTS, IN TOOL AND DIE DIMENSIONS, IN YOUR LOADING PRACTICES AND PROCEDURES. THE INDIVIDUAL RELOADER IS SOLELY RESPONSIBLE FOR ANY VARIATION THAT MAY BE INCURRED BY ASSEMBLED AMMUNITION. TO AVOID SERIOUS INJURY OR DEATH TO SHOOTER AND BYSTANDERS, THIS PRODUCT SHOULD ONLY BE USED IN GUNSMITH-INSPECTED GUNS DESIGNED FOR MODERN SHOTSHELLS. IF GUN FAILS TO FIRE, KEEP POINTED IN SAFE DIRECTION FOR 30 SECONDS, THEN UNLOAD CAREFULLY. WEAR EYE AND EAR PROTECTION AND OBSERVE PROPER GUN SAFETY AT ALL TIMES. ALL PRODUCTS SOLD "AS IS".