Detailed Description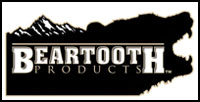 Beartooth Shotgun Stockguard 2.0 (Brown)
Stock Options...for the hardcore hunter or shooter. Our first ever product remains the staple must-have item. Beartooth's StockGuard protects your gunstock from the bumps and bruises of the field while adding maximum shooting comfort. The heavy-duty neoprene sleeve is not only durable, but also very soft to the touch. Vastly superior to other nylon ammo carriers, which once installed, slide around and do not securely hold ammo. Our rubber backing ensures products stay in place at all times.
Features:
Prevents damage to your gunstock

Adds shooting comfort, soft feel

Slips on, no zippers or Velcro

Built-in swivel stud access
Sizing & Fit: One size fits most. Sleeve is 7" in length. Intended to fit snug, rubber back prevents slipping
Made in the USA.
Curmudgeon's Loading Tips
For great load data and loading hints, click on the Curmudgeon and sign up for our weekly email updates and product specials.
Gun part/accessory
Made in USA