Detailed Description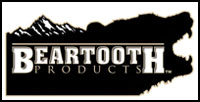 Beartooth Stock Guard (Black)
A stock guard prevents nicks and dings from damaging your shotgun's stock. The 2.3mm neoprene construction of this model also absorbs energy, reducing felt recoil. This well-designed stock guard fits all shotguns - an easy no-tools installation. Once installed, it won't slip, slide or stretch out.
Outer layer is lined for easy gun movemement and comfort. Inner layer is neoprene for a protective, tight, dry seal against the stock's finish. Other models includes a shell carrier. This model is a smooth-sided model. Waterproof, one size fits all, easy installation.
Made in the USA. Black.
Curmudgeon's Loading Tips
For great load data and loading hints, click on the Curmudgeon and sign up for our weekly email updates and product specials.
Gun part/accessory
Made in USA