Detailed Description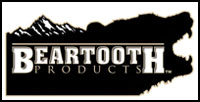 Beartooth Stock Guard Shell Holder (Brown)
A stock guard prevents nicks and dings from damaging your shotgun's stock. The 2.3mm neoprene construction of this model also absorbs energy, reducing felt recoil. This well-designed stock guard fits all shotguns - an easy no-tools installation. Once installed, it won't slip, slide or stretch out.
Outer layer is lined for easy gun movemement and comfort. Inner layer is neoprene for a protective, tight, dry seal against the stock's finish. This model includes a shell carrier (shown), also available in a smooth-sided model, which is highly recommended for lefties. Waterproof, one size fits all, easy installation and reduces felt recoil.
Made in the USA. Brown w/ 4-shell holder.
Curmudgeon's Loading Tips
For great load data and loading hints, click on the Curmudgeon and sign up for our weekly email updates and product specials.
Gun part/accessory
Made in USA