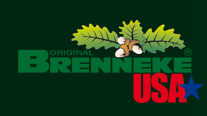 Brenneke KO Sabot 12ga 3" 1 oz. Slug (5/box)
The K.O Sabot gives you the safety of a quick and clean kill, even better as it is one of the least expensive sabots on the market.
It offers 58% more frontal area than standard .50 cal slugs, resulting in massive energy transfer.
Deep penetration, expansion up to .9", you name it, the K.O. Sabots got it.
Calibre: 12GA 3"
Weight: 1 oz, 437grs, 28,4g
Game: moose, deer, wild boar, coyote
Barrel: smooth and rifled chokes
Range: up to 100 yards