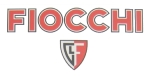 Fiocchi .22 LR 40 Grs. CPSP (333/can)
The Curmudgeon loves the ease and convenience of Fiocchi's can packaging. Safe, convenient and priced right; this is the new way to shoot.
This is Fiocchi's sport and hunting line of .22 rimfire ammunition. Divided into products intended for the informal target shooter and plinker, as well as hunters, this line has enjoyed increasing popularity since its introduction in 2006.