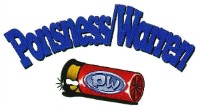 PENX Pin Point Applicator
Ensure long- lasting, friction-free performance of your PW loader with Penx lubricating fluid. Great for all reloaders and applications that are tough to access.
Penx can also be used on firearms, or anywhere that requires a special rust inhibitor. A handy pen style applicator, small enough to be carried in your shooting bag or tool box.
Pen Style Applicator of Penx lubricating fluid
Rust Inhibitor Properties
Great for tight spots on all reloaders

Product Type: Special Oil
Size: Pen style applicator