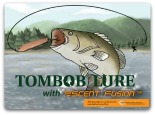 TomBob Lures (3/pak)
The patented TomBob Lure has been developed and tested to catch loads of Bass, Walleye, Northern Pike, Perch, Musky, Stripers, Bluefish, and more. This versatile lure has a shape that gives it action whether you are jigging, trolling, or casting. The TobBob lure works without extra weights, such as those needed on balsa wood or plastic lures.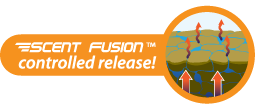 Variety: Available in four different sizes/weights: 1 oz., 1/2 oz., 1/4 oz., and 1/8 oz.
Lead Free: The TomBob Lure is constructed using raw materials containing no significant traces of lead or other harmful elements.
Easy to Use: The TomBob Lure is convenient and ready to use. Just open your Fusion Pack, tie it on, and start fishing! No extra weights, sprays, pastes, or bait are required.
No Need for Extra Sprays: Sprays and pastes make a mess of you and your equipment. They also tend to wash off as soon as they hit the water. Plus, they're not released in a controlled manner as they move through the water.
Scent Fusion: The TomBob Lure utilizes a proprietary fish attractant that is infused into microscopic pores of the lure. The attractant is released in a controlled manner that triggers feeding in larger fish by mimicking certain pheromones of a panicking bait fish.
Controlled Release: The infused fish attractant is slowly displaced, over a period of time, as the lure is pulled through the water, allowing only a small release of the attractant at any one time. This process is known as Scent Fusion.
Patented Design: The patented design of the TomBob Lure is such that it gives solid action on both retrieval and jigging.
You may also be interested in ITX Roundballs & Bullets:
BPI
Product
Approx.
Metric
Grains
Part #
Description
Diameter
Diameter
per ball
Made in
TXRB32
ITX .32 cal non-toxic roundball (30 balls)
.312"
7.9 mm
37.2
USA
TXRB45
ITX .45 cal non-toxic roundball (14 balls)
.436"
11.1 mm
105.2
USA
TXRB50 .487
ITX .50 cal non-toxic roundball (12 balls)
.487"
12.35 mm
154.0
USA
TXRB50 .490
ITX .50 cal non-toxic roundball (12 balls)
.490"
12.45 mm
159.0
USA
TXRB54
ITX .54 cal non-toxic roundball (10 balls)
.524"
13.3 mm
190.1
USA
TXRB62
ITX .62 cal non-toxic roundball (12 balls)
.601"
15.7 mm
272.7
USA
TX50BS
ITX Bullets & Sabot .50 cal (8 pack)
.447"
11.4 mm
293.0
USA
*Note: All measurements and weights will vary by production run; these are approximations.