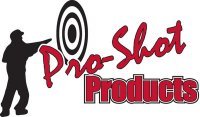 Pro-Shot 1-Step Gun Cleaner & Lube (8 oz.)
The next generation of cleaner and barrel maintenance is here. This environmentally-friendly and non-hazardous formula leaves barrels completely CLEAN & PROTECTED in ONE EASY STEP.
Removes: Lead, Powder, Plastic, Copper (Jacketed), and Primer Fouling
Makes gun bores and actions easier to clean.
Lubricates and Protects: Rust inhibitors and special additives soak into the metal and provide a corrosion barrier for superior rust protection.
Synthetic Synergistic Blend: The super proprietary formula of 1 Step lessens fouling/residue buildup with repeated use.
How to use 1 Step:
Saturate the bore or chamber area
Let penetrating agents do their work; let sit for 10-15 minutes. You can even let it set overnight in a gun vise.
Run Brush through bore/chamber area and bust fouling/debris loose.
Finish with a jag and dry patches. Clean all saturation and fouling out.
There is NO need to finish with an oil because 1 Step has rust-inhibiting and corrosion-protection additives in its formula.

About ProShot products:
Our staff (and The Curmudgeon) thinks these are some of the best gun care products available in the market today. They are made in Illinois by a fine family company. You can buy cheaper products to take care of your gun, but why would you? In terms of value, you'll get more from Pro Shot. So, spend a few cents more and take care of your firearm investments with a great product that is made in the USA.