BP2090S The Tank Pre-slit

Multi-Metal unslit wad for 20ga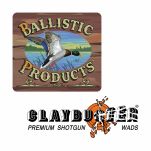 Our lab calls the BP2090S "The Tank" because it is the sturdiest 20ga wad they've tested. Thick-walled wad which was designed originally for 3/4-ounce steel shot loads. It has proven itself to be a very versatile Multi-Metal wad for many different non-toxic pellet types and loads. The large internal capacity of this wad and highly protective wad petals make it a great field performer with steel and SpheroTungsten shot.
The BP2090S is pre-slit. The BP2090S can handle a wide range of pellet materials, including lead, steel, bismuth, and SpheroTungsten.
Capacity: The BP2090S holds a maximum of 600 grains (about 1.4 ounces) of SpheroTungsten-15 shot or 750 grains (1.7 oz.) of SpheroTungsten-18.
Data: The BP2090S "Tank" is NOT the same wad as the PT2090. Therefore, all new loading data is being produced for the BP2090. It is molded out of new TPS material made right here in the USA. Different materials mean different load results. Do NOT use load data that was originally tested for the PT2090.
Curmudgeon's Loading Tips:
TYPE: 1-1/8 oz lead loads, 3/4 oz steel shot. Other Multi-Metal loads include bismuth, and other tungsten-type pellets.
Product Type: Wad, Multi-Metal capable for field use.

Typical Loads:

Non-toxic and high-capacity field loads.
Made in USA