Lead/Bismuth wad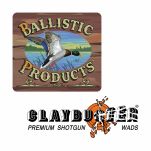 The BP2093 is the closest wad in our line to the dimensions of the good old Federal 20S1. While we aren't ready to call it a substitute yet, our lab is cross-testing many 20S1 loads with the BP2093.
Design: The shotcup and overall length of the BP2093 is shorter than the 20S1, but most every other dimension is nearly identical. When side by side, the column height and wad base are nearly the same. The shorter shotcup of the BP2093 is slit and tabbed, which makes the BP2093 ideally suited for high-speed production. The honeycomb cushion section absorbs energy and adjusts easily to varied load heights. From the bottom of the gas seal to the base of the wad the dimensions are the same as the 20S1. Therefore, volumes and stack heights will be nearly identical. We've included the comparable dimensions of the 20S1 below.
Curmudgeon's Loading Tips:
TYPE: 7/8 oz and 1 oz lead loads in 2-3/4" and 1-1/8 oz lead loads in 3". Other field loads include bismuth pellets.
Overall length: 1.462" (20S1 = 1.685")

Shotcup depth:

0.733

" (20S1 = 0.945")

Gas Seal depth: 0.155" (20S1 = 0.155")

Gas Seal diameter: 0.626" (20S1 = 0.625")

Cup Bottom to Gas Seal Bottom: 0.748" (20S1 = 0.748")

Product Type: Wad, lead and bismuth shot for target and field.
Made in USA