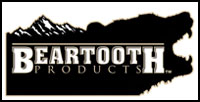 Beartooth ScopeGuard 2.0 - Open (Realtree Xtra)
Objectively speaking...Why pay hundreds of dollars (or more) for a scope and not protect your investment? Our ScopeGuard 2.0 is the easy way to extend the life of your scope by eliminating unnecessary wear and tear. Heavy-duty neoprene construction is shock absorbent, water resistant, and prevents harmful dirt and debris penetration. Other scope covers need to be taken off, while Beartooth's open ends allow for in-the-field use, where most damage occurs. The 2.0 version is improved from the first generation ScopeGuard - better fit, construction, and materials. No more Velcro closure. Instead the bottom opening is lined with elastic - which provides a nice, snug fit. Sides can be pulled up to easily access turrets for necessary adjustments. Also features foldover trim for styling and rubber-backed ends on the objective and eyepiece to keep cover in place. Can be used in combination with plastic flip-up caps (although we are preferential to our ScopeMitt - which has neoprene flip-up mitts). If you are looking for a full-time scope cover, you have found your solution.
Features:
Constructed of heavy-duty 2.5mm rubber-backed neoprene

Easily access turrets without removing cover

Protects scope body, reduces glare, repels moisture

Easy to put on and take off, no need to remove scope to install

Stealth materials - no plastic or Velcro

Premium construction, materials, and styling
ScopeGuard 2.0 Sizing Chart:
| | |
| --- | --- |
| Objective/Size | Accommodation Range |
| 40mm Short | 12" - 13.5" |
| 40mm Long | 13.5" - 15" |
| 50mm Short | 12" - 13.5" |
| 50mm Long | 13.5" - 15.5" |
.

Curmudgeon's Loading Tips
For great load data and loading hints, click on the Curmudgeon and sign up for our weekly email updates and product specials.

Gun part/accessory
Made in USA