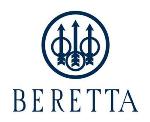 Beretta Shotgun Pull Through Cleaning Rope
These bronze, nylon and felt cleaning ropes help maintain a clean and rust-free shotgun. The bronze scrubbing bristles act as a stiff scouring pad to remove any residue, the nylon bristles distribute the lubricating oil to season the firearms surface, and the felt pad ensures that no moisture remains.
The Curmudgeon approves of this product for fast and effective bore cleaning.

Cleaning rope with bronze scraping brush, nylon bristles and felt cleaing pads.
Quick and Easy
-
J. M., Grand Junction, CO
"I recommend this product for a quick and easy cleaning. It is compact enough for easy storage however I do wish it came a its own plastic storage case. It is made of good quality materials which is typical of the Beretta standards."