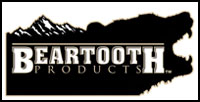 Beartooth Comb Raising Kit 2.0 Smooth Sided (Brown)
From the trap range to the rifle range, shooters of all kinds can use the Comb Raising kit to customize and improve fit, which improves not only comfort, but accuracy as well. The Comb Raising Kit includes a lined outer guard and five pads for adjustment: (1/8", 1/4", 3/8", 1/2" and 5/8"). Not only will the Comb-Raising Kit improve your shooting accuracy, but also reduce felt recoil transmitted through the top of the stock to your cheek. Each insert is made from 50-lb. hi-density EVA cells. Inserts are easily installed with no tools - easy to put on or take off so that you can try many different variations.
Made in the USA. Brown.

Curmudgeon's Loading Tips
For great load data and loading hints, click on the Curmudgeon and sign up for our weekly email updates and product specials.