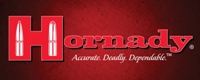 Hornady 17cal 17gr HMR V-Max ammo #83170 (50 rds/box)
Caliber: 17 Hornady Magnum Rimfire
Bullet Weight: 17 Grains
Bullet Style: Polymer Tip V-Max
Muzzle Velocity: 2550 fps
Muzzle Energy: 245 ft. lbs.
Hornady has had two instant successes with their 17 HMR and the 17 HM2. These small cartridges provide tack-driving accuracy.
The 17 HMR ammo is loaded with the potent 17 gr V-Max varmint bullet and has a muzzle velocity of approximately 2,550 fps. The 17 HM2 has the same 17 gr V-Max and puts the bullet out at approximately 2,100 fps. All 17 caliber ammo is available in boxes of 50 or bricks of 500.
Hard-Hitting V-Max Technology:
The polymer tip of a V-Max bullet delivers more than tack-driving accuracy at long range -- it also creates dramatic expansion on impact.
Honest 200-yard Performance: The flat trajectory delivered by the 17 HMR makes it the most accurate long-range rimfire ever made.
Select Brass: The uniformity of the Hornady 17 HMR case is equalled only by ultra-expensive match ammo, and case geometry helps provide this new cartridge's unequalled performance!
Propellant: The powerful new propellants available today make the 17 HMR the most accurate, hardest-hitting rimfire cartridge available