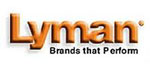 Lyman Shotshell Handbook, 5th Edition
Updated 5th edition: Lyman's shotshell loading guide includes all new listings for lead, steel and slugs. Special chapters include: An introduction to reloading, shotshell components (including many found in the BPI catalog), how to reload, chokes, reloads and sporting clays and shotshell ballistics. Soft cover, 408 pages.
If you are seeking loads for older components or the once-fired hulls that you are likely storing in big trash bags in your garage, then this will be a good resource volume for you.

Product Type: Handbook
Application: Shotshell
Size: 5th Edition