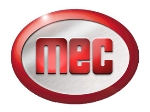 MEC 200E Sporter Standard Clay Target Machine
Shipping and promotional coupons do not apply to this product. All shipping will be quoted and billed at actual freight costs.
The 200E Sporter is the entry level club sporting clay target machine made in the USA. This machine is ideal for clubs on a budget looking to put together a sporting clay range or 5-stand. The tilt base upgrade can be added at any time turning a good machine into a great machine!
Holds 200 standard targets. Midi carousel available in place of standard carousel at no extra charge.
Genuine 90 yard throwing distance.
Cycle time of 1.5 seconds.
Elevates back to 70 degrees, great for teal target presentations.
Elevation quickly and easily adjusted without the need for wrenches.
Optional tilt base available to allow the machine to tilt left and right.
Stand and Midi weigh 138 lbs. Tilt weighs 142 lbs.
Dimensions are 36"H x 26"L x 23"W at zero tilt and zero elevation. Tilt Dimensions are 37"H x 26"L x 23"W at zero tilt and zero elevation.
Three-year warranty and life-time warranty on main-shaft and one-way bearing.
Standard machine weighs 138 lbs. Machine with tilt base weighs 142 lbs.
Uses 12V Deep Cycle Marine Grade Battery, Group 24 Minimum.
SHIPPING: All MEC Clay Target Machines are shipped from separate facility. Shipping for the MEC Target Machines may require a lift gate. Our customer service team will provide a custom shipping quote prior to processing your order.
Please make sure that your contact information is correct so that we may contact you with the shipping quote.