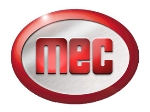 MEC Dust Cover (all models) #8807
Protects your MEC Reloader from dust and airborne particles, which are especially attracted to oiled parts. The attractive MEC red cover with logo really sharpens up your reloading bench. We use these in our test lab for all our machines. The reloaders stay cleaner and the entire room looks better. The velcro closure around the handle makes it accommodating for almost any brand of reloader.
Sizing: MEC makes only one size and it is large enough to fit their progressive reloaders: MEC Grabber, Hustler, 650, and 9000 series - even when equipped with 12" shot bottles. Also fits MEC single stage reloaders. It will just be a bit large on the Sizemaster and 600JR; somewhat like a supermodel in Rosie O'Donnell's clothing.
Material: Made of long lasting, machine washable, color-fast canvas duck material.
Fit: Tapered fit measurements: Base = 11-1/2" x 13-1/2", Top = 7-1/2" x 11", Height = 31-1/2" tall.