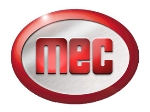 MEC Powder Bushings (#130MC*)
These bushings fit in MEC shot Charge Bars and regulate the amount of powder with a volumetric measurement.
Remember, the MEC Bushing Chart is only a guideline and it does not guarantee what each bushing will drop. This is because the density of powders can and do vary between production lots. Therefore, it is essential that you check the actual weight of the powder that is dropped through each bushing with a reliable powder scale, such as the BallistiScale-1500.
For all MEC progressive & single-stage reloaders
Select from size #7 (smallest diameter) through #46 (largest diameter)
Click here to view MEC Bushing Chart

Curmudgeon's Loading Tips:
MEC powder bushings are a great value and you can use them in other reloading brands (e.g., RCBS, Ponsness/Warren, and Hornady) if you have one of our MEC Bushing Converters.
For more great load data and loading hints, click on the Curmudgeon and sign up for our weekly email updates and product specials.

Powder Bushings: Volumetric Powder Measure
#130MC
Made in USA