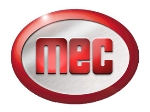 MEC Lead Shot Skeet Special Charge Bar for Progressive
(#130502SS*)
MEC Charge Bars accommodate MEC Powder Bushings and they regulate the amount of shot that is dropped with a volumetric measurement. Skeet Special charge bars are specifically sized to drop #9 shot for competition skeet loads.
MEC makes six different charge bar series for different machines and shot types:
Volumetric Shot Drops: Charge Bars drop shot by volume and not by weight. Therefore, the weights listed on the bar are only a guideline; it does not guarantee what weight will actually drop. This is because the density and size of different pellets can and do vary. Therefore, it is essential that you check the actual weight of the shot that is dropped with a reliable powder scale, such as the BallistiScale Max . After checking a couple drops, you will know what your bar is dropping.
Additionally, the Skeet Special bars are designed to drop slightly under the ounces listed on the bar so the shooter does not exceed the legal load amount for competition and is NSSA-compliant. Skeet Special bars were calibrated with chilled lead shot pellets, if you use magnum lead shot pellets the charge will be lighter still.
For all MEC progressive reloaders (Grabber, 9000, etc...)
Select from sizes in drop-down chart above

Curmudgeon's Loading Tips:
Hot-Rodding Your MEC Reloader:
You can improve MEC performance with just a couple convenient accessories:
Better Crimps: When loading new/primed hulls, your crimps may not stay closed if you are using a standard plastic crimp starter. The Super Crown Crimp Starter is designed to put a lasting crimp memory into new plastic, essential for tight and functional crimps on new hulls. The Super Crown also provides better crimps on once-fired hulls too.
For more great load data and loading hints, click on the Curmudgeon and sign up for our weekly email updates and product specials.

Charge Bar for Shot
#130502SS*
Made in USA