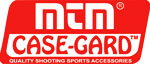 Choke Tube Box-Large
Rugged polypropylene with two internal dividers and a foam pad. The foam pad helps prevent rattle and protect the delicate threads on the chokes. Depending on your chokes, there is room for most factory wrenches and choke lube. Holds six extended choke tubes.
Also available: MTM Small (3-6) Choke Tube Box
Don't forget to try the Briley Turbo Choke Cleaning Tool too!

Polypropylene hinged box

CT6-41 (Item 1340411) Holds six extended choke tubes

Made in the USA