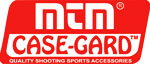 P100-44 Handgun Series Ammunition Box
The Case-Gard P-100-44 ammunition boxes are the perfect ammo carrier for the handgunner who wants to spend several hours at the range. Ideal for storing reloads. They have an easy to grip, scuff-resistant textured surface and are stackable. The Snap-Lok latch and full-length mechanical hinge are guaranteed for 25 years. Calibers for each box our listed on the bottom of each box. Load label included.

Holds 100 rounds of ammunition.
Colors: Clear Blue, Green, Clear Red, and Clear Green/Black
Calibers: 44 Rem. Mag., 44 S&W Special, 41 Mag., 45 Long Colt, 218 Bee, 357/44 B&D TC, 41 Rem. Mag., 45 Win. Mag., 454 Casull, 44 Russian, 25-20 / 32-20 / 38-40 / 44-40 WCF, 41 Long Colt, 45 S&W Schofield, 310 Cadet, 460 Rowland
Max. OAL = 1.88"
Flip top cover
Holds 100 rounds
Made in the USA