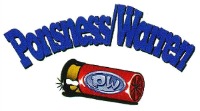 PW Steel Crimp Assembly (select gauge and 6 or 8 pt.)
We think that PW's original machined, metal crimp starters work better than anything else. That's why we stock them. The Crimp assembly includes the crimp housing (the piece that fits into the reloader and is secured with an allen screw) and one steel crimp head. Keep the housing in place and just swap out crimp heads as desired.
Additional crimp heads can be purchased separately.

Product Type: Crimp Assembly
Size: Select gauge and 6 or 8 point
Made in USA