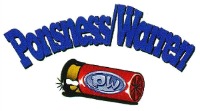 PW Canvas Dust Cover Small (for 375 and metallic reloaders)
Durable, heavy weight canvas cover keeps dirt and dust off your reloader while not in use. Easily slips on and off. Small cover fits PW 375 loaders. Attractive PW logo imprinted.
*Pictured here is one of The Curmudgeon's 375C reloaders in our testing lab. This dust cover is actually about 25 years old. Yes, this one is a bit faded and worn, but you can be assured that they are built to last.