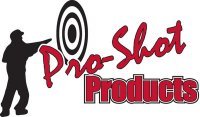 Pro-Shot Universal Cleaning Kit (.22 Cal - 12ga)
Everything included to clean a pistol, rifle or shotgun neatly organized in a heavy duty reusable carrying/storage case. Premium Stainless Micro-Polished Gun Cleaning Rods have a 32.5"/82.55cm working length. Exclusive design full size swivel handle.
All Brass accessories (muzzle guard, patch holder fits (.22-.45 Cal.), Shotgun Adaptor, and Shotgun Holder Patch
Nylon Bristle Bore Brushes for (.22 Cal. Pistol, .38-.45 Cal. Multi Brush, .22 Cal. Rifle, .30 Cal. Rifle and .410thru 12GA Multi Brush
1-Step Needle Oiler 1oz. Gun Cleaner & Lubricant
100% Cotton Flannel Cleaning Patches - 3 sizes included.
Double Ended Gun Brush
Pro-Gold Grease Sample packet
Silicone Treated Cloth

About ProShot products:
Our staff (and The Curmudgeon) thinks these are some of the best gun care products available in the market today. They are made in Illinois by a fine family company. You can buy cheaper products to take care of your gun, but why would you? In terms of value, you'll get more from Pro Shot. So, spend a few cents more and take care of your firearm investments with a great product that is made in the USA.