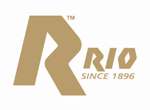 Rio 12ga 2-3/4" once-fired 10mm brass (100/bag)
Color: Blue
Crimp: 6-point
Top Edge: Skived
Depth: 2.466"
Length: 2.736"
Brass: 0.371" (10mm)
Primer: (fired) Rio-209
Headstamp: "12 (stars)" generic
Wall Thickness: 0.030"
CLICK HERE TO SEE NEW & PRIMED RIO HULLS
Rio hulls feature easy-loading straight-wall extruded tubes and deep plastic disk basewads for versatile load designs.
Like Fiocchi, Rio's proprietary primer is made in Europe to a metric specification. The result is that the primer measures approximately 0.001" larger than standard U.S. primers. Therefore, plan on reloading them with Fiocchi or Rio primers - otherwise a U.S. primer will be loose in the primer pocket. Of course, primer pockets can always be repaired with a Primer Pocket Conditioner tool.