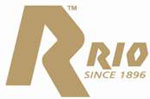 Rio 28ga 2-3/4" Top Target max dram #9 (box/25)
Together with the cooperation of some of the most distinguished experts in both the USA and Europe, Rio has developed a comprehensive range of premium Trap, Skeet, and Sporting loads to accommodate the needs of shooters from the recreational to the serious competitor.
We use clean burning single-base powder along with our proprietary wads and 209 primer, all developed by our parent company UEE of Spain. This means that we can offer a range of shotshells that produce consistently reliable velocities, moderate pressures and smooth recoil. You will get dense shot patterns for perfect target breaks - no matter what your preferred discipline.
Gauge: 28
Length: 2-3/4"
Shot: 3/4 oz. lead shot
Size: #9
Velocity: 1300 fps
Quantity: 25 rds/box & 10 boxes/case