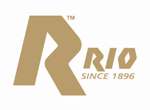 Rio 12ga 2-3/4" new/primed 10mm brass (100/bag)
Color: Blue
Top Edge: Skived
Depth: 2.466"
Length: 2.736"
Brass: 0.371" (10mm)
Primer: Rio-209
Headstamp: "12 (stars)" generic
Wall Thickness: 0.030"
New & primed Rio 12ga 2.75" hulls are a great value. The hull is the most important part of your reload; don't compromise your performance with old, weak hulls. That's why we recommend starting with new/primed hulls. New hulls will always give you more loadings and because they are primed you save on your primer costs too. Remember, there is no Hazmat charge on primed hulls when shipped via ground in the continental U.S.
Rio hulls feature easy-loading straight-wall extruded tubes and deep plastic disk basewads for versatile load designs. These hulls roll or fold crimp with ease.
Like Fiocchi, Rio's proprietary primer is made in Europe to a metric specification. The result is that the primer measures approximately 0.001" larger than standard U.S. primers. Therefore, plan on reloading them with Fiocchi or Rio primers - otherwise a U.S. primer will be loose in the primer pocket. Of course, primer pockets can always be repaired with a Primer Pocket Conditioner tool.