BP2092 Quasar
20ga 3" Multi-Metal wad (250/bag)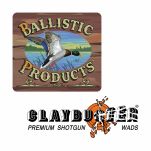 BP wads are better than ever. Our high-quality BP line of wads are updated with improved molding resins and made in the USA by our good friends at Claybuster.
The BP2092 Quasar is manufactured with our toughest TPS molding resin. It is designed with Multi-Metal capabilities to accommodate heavy payloads in 20 gauge 3". Our ballistic lab is producing all-new load data for the BP2092 that will include lead, steel, bismuth, BPX-12, SpheroTungsten 15.0, and SpheroTungsten 18.0. (Load data for the original PT2092 wad does not apply to the BP2092 Quasar).
Our lab marvels at the many high-performance field loads in lead, steel, tungsten, and bismuth configurations. The BP2092 Quasar is a unique wad with numerous field applications.
A note on tabbed petals: We often receive questions on the purpose of petal tabs. "Tabs" are the small molded points that bind the shotcup petals together. The ONLY reason for these tabs is to eliminate nesting in automated wad feeders during the commercial loading process. Since the BP2092 Quasar is made of a very resilient material, it is possible that some tabs may not break completely during firing. It is recommended that the handloader sever these tabs prior to loading. This process is very quick and easily: Simply slide a partially open pair of snips or scissors down each slit. The tabs will magically pop open.
Data: The BP2092 Quasar is NOT the same wad as the PT2092. Therefore, all new loading data is being produced for the BP2092. It is molded out of virgin material made right here in the USA. Different materials mean different load results. Do NOT use load data that was originally tested for the PT2092.

*Dimensions:
Overall Length = 1.860"
Shotcup Depth = 1.619"
Gas Seal Diam = 0.631"
Gas Seal Depth = 0.125"
Cushion Height = NA
Weight = 31.8 grains
Features:
Maximum-capacity 20ga 3" shotcup.
Varied load payloads and shot types.

Seal-Slit Technology.

Tabbed shotcup petals eliminate nesting.

Curmudgeon's Loading Tips:
MYLAR: The BP2092 is designed for maximum capacity in 20ga 3" loads. Because it is designed for large shot capacities, the wad walls are thinner in order to allow for more interior volume. Steel and tungsten pellets are abrasive and can cause barrel damage if the shot protrudes through the wad slit or otherwise comes into direct contact with bore/barrel. As an insurance policy to reduce the chances of barrel damage due to abrasive pellets, Mylar wraps are a very good idea. They may be added to any of the loads for the BP2092.
[Link to Thin Mylar]
WAD TYPE: Straight wall = 1-1/8 oz. and 1-1/4 oz. lead shot, 7/8 oz. to 400 grain steel shot, bismuth shot, tungsten-based shot types. 20-gauge field wad.
We utilize this wad to many lead and bismuth shot utility loads. We have found that it yields softer recoil with intermediate burn-rate powders. Excellent consistency with these loads. *Industry tolerances apply.
NOTE: No wad can completely eliminate the risk of scoring or abrasion. Pellet materials harder than your gun's barrel can still cause damage. Follow only tested and published load data. READ A LOADING MANUAL BEFORE YOU START TO LOAD.

MADE IN USA