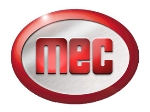 MEC 600 Slugger 12ga
The MEC 600 Slugger is the only complete handloader unit on the market to efficiently reload shotshell slugs. The machine is self-inclusive. The MEC 600 Slugger is based off of MEC's number-one selling shotshell reloader in the world, the MEC 600 Jr Mark V.
Seasoned gunners will appreciate the features provided by the MEC 600 Slugger. The MEC 600 Slugger has a three-step roll turn crimping system, which folds the plastic into the shell to look like a roll crimp. The shell is finished with the use of MEC's special dies.
This single-stage loader provides a quick and simple way to reload your hunting and home defense rounds with the ease of pulling a handle.
Crimp: This reloader does NOT produce a roll crimp such as the one a Roll Crimper will produce. The Slugger produces a crimp that progressively curls the plastic over and on top of the slug. A picture of our lab's first two loads using the Slugger can be seen in Additional Images (above).
Loads 100 to 125 rounds per hour depending on your recipe.
Can be upgraded with part number 285CA primer feed
Available in 12 and 20 gauges only
Adjustable for 3" shells
Die sets (gauge conversions) are not available

Curmudgeon's Loading Tips:
Resizing high-brass hulls: If you are experience resistence when resizing high-brass hulls, try just a little bit of Mica Wad Slick on the brass, die, or resizing area of your reloader. A little dry lube goes a long way toward saving reloading sanity. Also, the MEC Super Sizer works very well for all high brass hulls.
For more great load data and loading hints, click on the Curmudgeon and sign up for our weekly email updates and product specials.

Complete installation instructions included.
Slugger slug reloading tool
MEC #: 9213
Made in USA