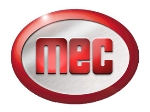 MEC Collet & Pad (gauge conversion) for Super Sizer #8167
Convert your
Super Sizer
tool to 10, 12, 16, 20, 28, or .410 gauge. Conversion takes about five minutes.
Instructions:
Loosen locking nut under base.
Unthread collet & pad assembly from base.
Replace with new assembly.
Adjust depth according to resizing requirement.
Replace locking nut.
Tools required: Crescent wrench & screwdriver.

Curmudgeon's Loading Tips:
Resizing high-brass hulls: If you are experience resistence when resizing high-brass hulls, try just a little bit of Mica Wad Slick on the brass, die, or resizing area of your reloader. A little dry lube goes a long way toward saving reloading sanity. Also, the MEC Super Sizer works very for all high brass hulls.
For more great load data and loading hints, click on the Curmudgeon and sign up for our weekly email updates and product specials.

Complete installation instructions included.
Kit changes Super Sizer to specified gauge.
MEC #: 8167
Made in USA