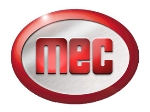 MEC Eccentric Nut #8671
Original MEC replacement part.

BPI's Super Crown Crimp Starter
HOT-RODDING YOUR MEC RELOADER:
You can improve MEC performance with just a couple convenient accessories:
Better Crimps: When loading new/primed hulls, your crimps may not stay closed if you are using a standard plastic crimp starter. The Super Crown Crimp Starter is designed to put a lasting crimp memory into new plastic, essential for tight and functional crimps on new hulls. The Super Crown also provides better crimps on once-fired hulls too.
Shot & Powder Charges: For added versatility and convenience, we recommend the Universal Charge Bar. This excellent accessory quickly pays for itself in bushing and charge bar savings and it gives you almost limitless load flexibility.
Priming: The EZ Prime auto primer feed (#285CA) can be added to the 600JR. EZ Prime dispenses primers automatically, which is a great time saver and a calming influence when loading. (*The automatic primer feed feature is not available for .410 reloaders.)

Curmudgeon's Loading Tips:
Resizing high-brass hulls: If you are experience resistence when resizing high-brass hulls, try just a little bit of Mica Wad Slick on the brass, die, or resizing area of your reloader. A little dry lube goes a long way toward saving reloading sanity. Also, the MEC Super Sizer works very for all high brass hulls.
For more great load data and loading hints, click on the Curmudgeon and sign up for our weekly email updates and product specials.