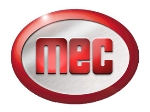 MEC Grabber #8567N with 200-cap primer
One finished shell for every pull of the handle. The 8567N Grabber has everything you need for high-speed, efficient operation and unbeatable accuracy.
The ten different operations at six stations speedily produce a finished shell with every stroke of the handle. It has a fully automatic primer feed, as well as auto-cycle charging and a three-stage crimp.
The "Power Ring" resizer accurately sizes high or low brass for optimum gun performance, without interrupting the reloading sequence. The operator simply puts in the wads and shell casings and removes a loaded shell with each pull of the handle.
Available in 12, 16, 20, 28 gauge, and .410 bore. Die sets are not available. Optional kits to load 3" shells (not available in .410 gauge) and steel shot.
We recommend the Universal Charge Bar is an excellent accessory for long-term savings and load flexibility.
*STOCK NOTE: Even if this reloader is listed out of stock, we have alternate shipping locations that assure speedy shipment of your MEC reloader. Please call our customer service department at 1-888-273-5623 if you have any questions.

LOADING NEW/PRIMED HULLS: When loading new/primed hulls, crimps may not stay closed if you are using a standard plastic crimp starter. The Super Crown Crimp Starter is designed to put a lasting crimp memory into new plastic, essential for tight and functional crimps on new hulls.
MEC Standard Reloaders include 1 Charge Bar & 3 Powder Bushings

10 GA

2oz

37, 40, 44

12 GA

1-1/8oz

29, 30, 32

16 GA

1oz

23, 25, 29

20 GA

7/8oz

20, 22, 24

28 GA

3/4oz

14, 16, 21

.410

1/2oz

10, 11, 12

.410 3"

11/16oz

10, 11, 12
*This product is drop shipped directly from the manufacturer and may incur additional shipping time. Actual stock of this product from our manufacturer may not be accurately reflected online. Please contact our customer service department at info@ballisticproducts.com or 1-888-273-5623 if you have any questions regarding your order.