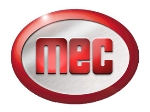 MEC Rubber Grommet #304G
This part is absolutely essential for a tight seal around the charge bar. Keep an extra one around, because you'll need it eventually.
If your powder drops are inconsistent, then you could be creating dangerous loads. That's why you need to routinely check your powder drops with a reliable scale. Also, you need to check this part to make sure it isn't worn. Replace it immediately if it looks the least bit worn.
Click on Additional Images for a graphic demonstration and instructions of how this part works in conjunction with MEC Charge Bars.

Curmudgeon's Loading Tips:
Resizing high-brass hulls: If you are experience resistence when resizing high-brass hulls, try just a little bit of Mica Wad Slick on the brass, die, or resizing area of your reloader. A little dry lube goes a long way toward saving reloading sanity. Also, the MEC Super Sizer works very for all high brass hulls.
For more great load data and loading hints, click on the Curmudgeon and sign up for our weekly email updates and product specials.

Charge bar grommet
MEC #: 304G
Made in USA