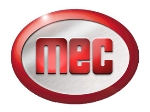 MEC Wad Guide (red/original style) #453P
You never want to be in a loading situation without a functioning Wad Guide. Like a spare tire, it is always better to have an extra Wad Guide around the loading bench at all times.
This replacement Wad Guide finger funnels the wad through the crimp and into the wad chamber of the casing. This style fits all older MEC reloaders produced before 1983.
Available Sizes:
10ga
12ga
16ga
20ga
28ga
.410 bore (2-1/2" & 3")

Curmudgeon's Loading Tips:
Resizing high-brass hulls: If you are experience resistence when resizing high-brass hulls, try just a little bit of Mica Wad Slick on the brass, die, or resizing area of your reloader. A little dry lube goes a long way toward saving reloading sanity. Also, the MEC Super Sizer works very for all high brass hulls.
For more great load data and loading hints, click on the Curmudgeon and sign up for our weekly email updates and product specials.

MEC part/accessory
MEC #: 453P
Made in USA