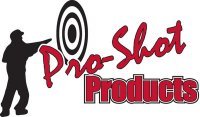 Pro-Shot 3-Piece Universal Cleaning Kit
A bit more expensive than others, but here's why: The rod is machined of stainless steel because stainless screw threads go easily together and apart without binding or cross-threading.
The rod has a comfortable swivelling handle. All attachments that may come into contact with a barrel are soft, non-marring solid brass.
The kit itself includes:
Solid brass all-gauge shotgun patch holder
1-oz. bottle One-Step cleaner and lubricant
Solid brass universal end (accepts all manufacturers' brushes and bore mops)
Swiveling handle
Everything here is shipped to you in its own reusable tube case for storage and transport.