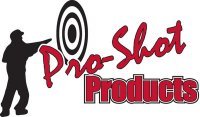 Pro-Shot Cotton Bore Mop 20 /24/28ga
We entrust these gun care items to our finest guns. Pro-Shot is made in Illinois out of the finest materials. Their own CNC machines turn out the best quality for the money.
A drop of oil on a bore mop creates a foaming action that assists in lubricating bores.
100% cotton mops feature a brass core -solid construction for repeated use.

About ProShot products:
Our staff (and The Curmudgeon) thinks these are some of the best gun care products available in the market today. They are made in Illinois by a fine family company. You can buy cheaper products to take care of your gun, but why would you? In terms of value, you'll get more from Pro Shot. So, spend a few cents more and take care of your firearm investments with a great product that is made in the USA.