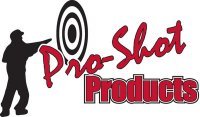 Pro-Shot Shotgun Chamber Tool 12ga
The Pro-Shot Shotgun Chamber Cleaning Brush along with the shotgun chamber tool makes it easy to clean residue and gunk from chambers. This reduces misfires and poor ejection caused by chamber fouling.
The Pro-Shot Shotgun Stainless Steel Chamber Cleaning Tool and Brush is an 8" non-swivel tool with a large, tapered shotgun chamber brush. This is the best tool we've ever found to clean residue from chambers. Excellent for use on semi-automatic shotguns. The brush is replaceable (sold separately).
Technical Information:
3-1/2" Bronze brush on 11-1/2" long soft brass handle.
Specifically designed for removing fouling from shotgun chambers.
Bristle Material: Bronze
Brush Core Material: Brass
Core End: Looped

About ProShot products:
Our staff (and The Curmudgeon) thinks these are some of the best gun care products available in the market today. They are made in Illinois by a fine family company. You can buy cheaper products to take care of your gun, but why would you? In terms of value, you'll get more from Pro Shot. So, spend a few cents more and take care of your firearm investments with a great product that is made in the USA.