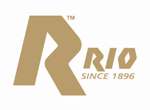 Rio 12ga 3" new & primed hull (100/bag)
Color: Royal Blue
Top Edge: Skived
Depth: 2.700"
Length: 2.964"
Brass: 0.883" (22mm)
Primer: Rio-209
Headstamp: 12ga w/stars
Wall Thickness: 0.028"
12ga 3" royal blue tube Rio hulls with full 22mm high brass. Rio 209 primer. Very crimpable plastic combined with large internal capacity.
Primer notice: Like Fiocchi, Rio's proprietary primer is made in Europe to a metric specification. The result is that the primer measures approximately 0.001" larger than standard U.S. primers. Therefore, plan on reloading them with Fiocchi or Rio primers - otherwise a U.S. primer will be loose in the primer pocket. Of course, primer pockets can always be repaired with a Primer Pocket Conditioner tool.
Click here to buy in case quantity

Comparison Chart: 12ga 3" hulls
Part #
Mfg.
Gauge
Length
Specs
Primer
Depth
#0621230
Federal
12ga
2.983
IBW (internal plastic)
Fed 209A
2.829
#0641230
Fiocchi
12ga
2.960
brown/unskived
Fiocchi 616
2.663
#RIO127622
RIO
12ga
2.964
royal blue/skived
Rio 209
2.700
#0641230
Fiocchi
12ga
2.960
brown/unskived
Fiocchi 616
2.663
#1391276
Cheddite
12ga
2.964
red/skived
Ched-209
2.717